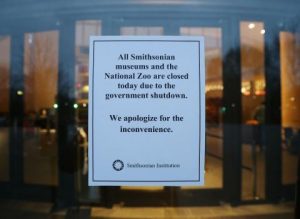 Not happy with certain aspects of the US or state government?  Why not work to change it. The US government is a consistent and significant employer of PhDs across numerous academic disciplines–and it won't always be shut down.
In 2016, there were 19.4 million employed in local and state government positions, a figure that is projected to reach 20.1 million by 2026 according to BLS data. A quick glance at USAJOBs, the official website for government positions, identifies the most urgent hiring needs in the following areas:
Of course, open positions don't necessarily require a PhD but there are many which do. Our search of "PhD appropriate" government jobs has also yielded a number of positions across a range of disciplines, including firms which sub-contract for government services and are involved in policy advocacy or government relations.  Take a look.
HSS
Director of Federal Affairs, Americans for the Arts
Proposal Development Specialist (DfID Global Fund)
Executive Vice President, Study Abroad, CIEE
Policy/Program Specialist, Nat'l Conference of State Legislatures
Psychometrician, Clinical Quality Measures
STEM
Strategic Intelligence Analyst, National Defense
Computer Vision Product Architect, In-Q-Tel
Environmental Engineer, US Department of the Army
Astrophysicist, Smithsonian Astrophysical Observatory
Civil Engineer, Department of Transportation
For access to more jobs as well as archived and searchable opportunities, visit our SmartJobs page. Note: SmartJobs access requires a university affiliation. User-generated jobs are free to all members and can be accessed here.