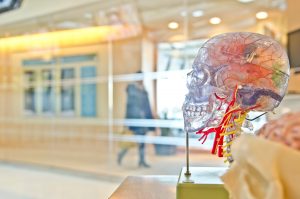 The value of venture capital invested in a particular field is often a leading indicator of new company formation, future innovation, and employment.  In the life sciences, recent indicators suggest increasing career opportunities across many new and well-established institutions and corporations (see charts below).
PhD employment in this field is already significant, and growing.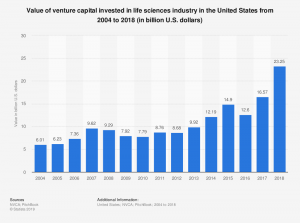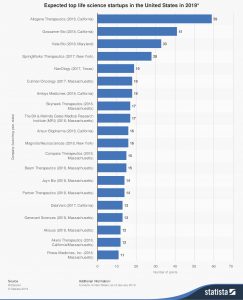 More importantly, this STEM-driven field touches so many parts of the economy and society that a wide range of positions are available, from medical writers to marketing, research and lab opportunities, business roles, communication, intellectual property specialists, and teaching.
To learn more, check out the Bureau of Labor statistics site which provides a detailed overview of life science employment by geography, type of institution, average salary levels and other useful data, all providing a good starting point for any job research in the field.
We also collected a sample of diverse opportunities available to peruse below, as well as more life science jobs on our SmartJobs page.
HSS
Science Writer, Walensky Labs, Dana Farber Cancer Institute
Marketing Manager, NanoView Biosciences
Director, Regulatory Affairs, Kezar Life Sciences
VP, Strategic Partnerships, PathAI
STEM
Project Team Leader gRed, Genentech
Research Scientist, Translational Sciences, Cell and Molecular Biology, Broad Institute
Biological Data Scientist, Axle Informatics
Senior Medical Writer, Institute of Medical and Nursing Education (IMNE)
Cancer Epigenomics and Computational Analysis, Hodges Lab (Post-Doc)
For access to more jobs as well as archived and searchable opportunities, visit our SmartJobs page.  Note: SmartJobs access requires a university affiliation. User-generated jobs are open to all members and can be accessed here.
If there are areas of work you would like us to explore in more depth, please contact at smartjobs@versatilephd.com.  We want to hear to you.