PRESS RELEASE: HeroX and Versatile PhD Form Dynamic Partnership to Solve Global Problems
Boosting Our Brain Power With Purposeful Crowd Curation 
Vancouver, BC — July 28, 2020 — HeroX, the world's leading platform for crowdsourced solutions, and Versatile PhD (VPhD), a career technology and learning platform that supports graduate students, PhDs, and postdoctoral scholars, today announced a partnership that will connect the brightest minds with the world's biggest problems.
PhD students have untapped talent that has the potential to solve the most intractable problems facing corporate and government entities. HeroX and VPhD are collaborating to create a platform where entities can sponsor specific challenges that would benefit from the particular expertise of PhDs. This will expose these organizations to innovative solutions from outside of their industry and allow them to access talent outside of their normal hiring mechanisms. Participating PhDs will have the opportunity to go beyond academia and apply their experience and expertise to real-world problems.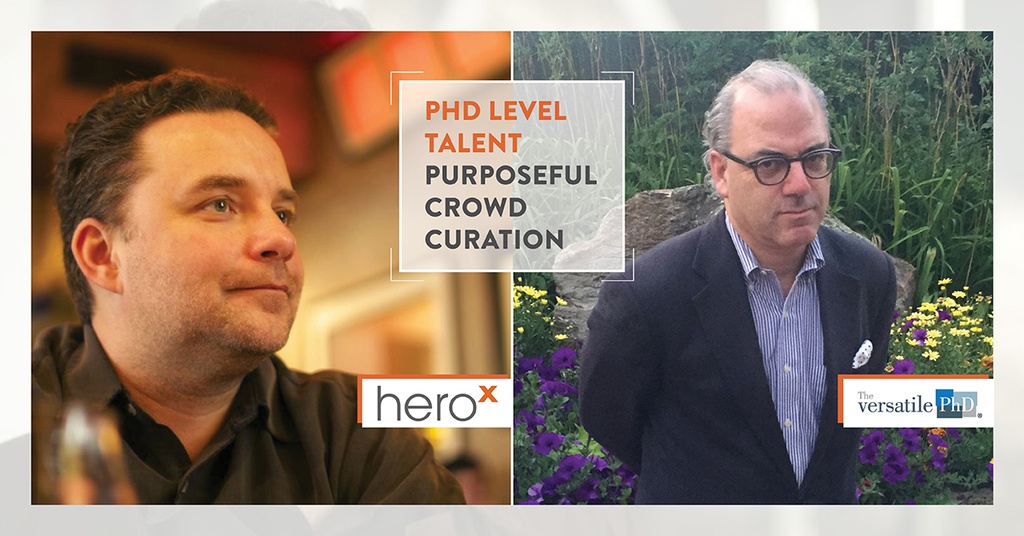 "The HeroX crowd just got a little smarter," said Christian Cotichini, CEO, HeroX. "Our vision is to create a crowd-enabled world, and this partnership gets us one step closer by extending our reach and bringing the VPhD community into the fold. Companies crowdsourcing on HeroX will get the benefit of the brightest minds, while participating PhD students, postdocs, and alumnus from the top universities will get unparalleled experience."
"We are delighted to partner with HeroX to provide innovative, experiential work opportunities to our PhDs and some of the world's leading research universities," said Todd Maurer, President of Versatile PhD. "The VPhD community includes over 110,000 scholars and problem-solvers across a range of disciplines, and our collaboration with the HeroX platform allows them to utilize their skills to tackle real-world challenges while also advancing their career prospects."
ABOUT HEROX
HeroX is a social network for crowdsourcing innovation and human ingenuity, co-founded in 2013 by serial entrepreneur, Christian Cotichini and XPRIZE Founder and Futurist, Peter Diamandis. HeroX offers a turnkey, easy-to-use platform that supports anyone, anywhere, to solve everyday business and world challenges using the power of the crowd. Uniquely positioned as the Social Network for Innovation, HeroX is the only place you can build, grow and curate your very own crowd.
Explore the latest challenges at www.herox.com
ABOUT VERSATILE PHD
The Versatile PhD is one of the world's leading career technology and learning platforms that specifically empowers graduate students, PhDs and post-doctoral scholars to envision, prepare for and excel in professional careers. Established in 2011, VPhD currently serves many of the top research universities in North America and over 110,000 registered users by providing high quality development content, job analytics, on-demand courses, live events and readiness tools across the humanities, social science and STEM disciplines.VPhD also manages VGradLab, a career lab focused on Master's students worldwide.
For more information, visit us at www.versatilephd.com
Media Contact:
HeroX: Alexandra Pony | press@herox.com | 250-858-0656
Versatile PhD: Todd Maurer or Alok Gupta | social@versatilephd.com | 800-874-3613