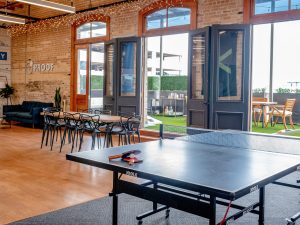 Successful start-ups are built on innovation and the ability to create new products and services by harnessing creativity, specialized knowledge, technical expertise and a sense of mission.  In other words, a perfect work environment for many with advanced degrees.  But there is more that may appeal to those in search of work in the start-up community: the value of research and science which is central to many enterprises; work environments which are nimble and often less bureaucratic; financial incentives; the focus on social impact; and, for some, free food.
We also know that smaller companies increasing drive employment opportunities in the US, as shown by the charts below illustrating (a) the distribution of employment in the private sector by firm size (smaller firms are creating more jobs) and (b) the number of enterprises which are less than one year old (on the increase and at record highs).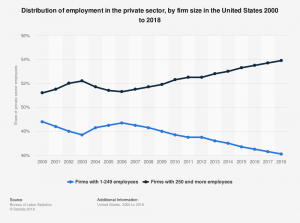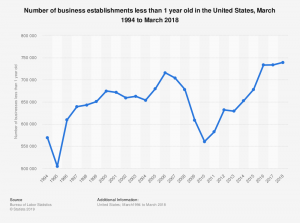 A previous post on start-ups provides more perspective on the value of capital being raised to fund existing and new ventures — and career opportunities.
Within this environment, this week's job feed includes a wide range of start-up and early stage venture opportunities in health, agriculture (agtech), financial (fintech), education technologies and schools, electronic scooters, neural analytics, child psychology, space travel, or within venture capital and consulting firms that focus on specific industries such as medical technologies.
This is a promising area of work for PhDs.  Get started.
HSS
Regional Director, Government Relations, Skip Scooters
Senior Industrial Organizational Psychologist, Pymetrics
Manager, Instructional Design, Bridge International Academies
Director Marketing, Full Harvest
STEM
Data Scientist, Content Acquisition, Spotify
Head of Data Science and Analytics, Task Rabbit
Artificial Intelligence Product Architect, In-Q-Tel
Senior Data Analyst, Talent Inc
Turbo-Machinery Development Test Engineer, Relative Space
Vice President, Venture Capital, Boston Scientific
If there are areas of work you would like us to explore in more depth, please contact at smartjobs@versatilephd.com. 
We want to hear from you.
For access to more jobs as well as archived and searchable opportunities, visit our SmartJobs page.  Note: SmartJobs access requires a university affiliation. User-generated jobs are open to all members and can be accessed here.