Live and Archived Events
Versatile PhD's 2022-23 live event schedule will consist of our new PhD Pathways Series which examines PhD careers across a range of innovative topics and industries, as well as new initiatives with our global partners.
If you are not a VPhD member, join Versatile PhD now if you haven't already. And let us know your feedback or ideas for future events at social@versatilephd.com
If you're new to Versatile PhD and also connected with one of our subscribing institutions, find the institution's VPhD portal (here's the list), go through it, and then join Versatile PhD.
UPCOMING EVENTS
VPhD and EduCo International:
Improving Outcomes for International Students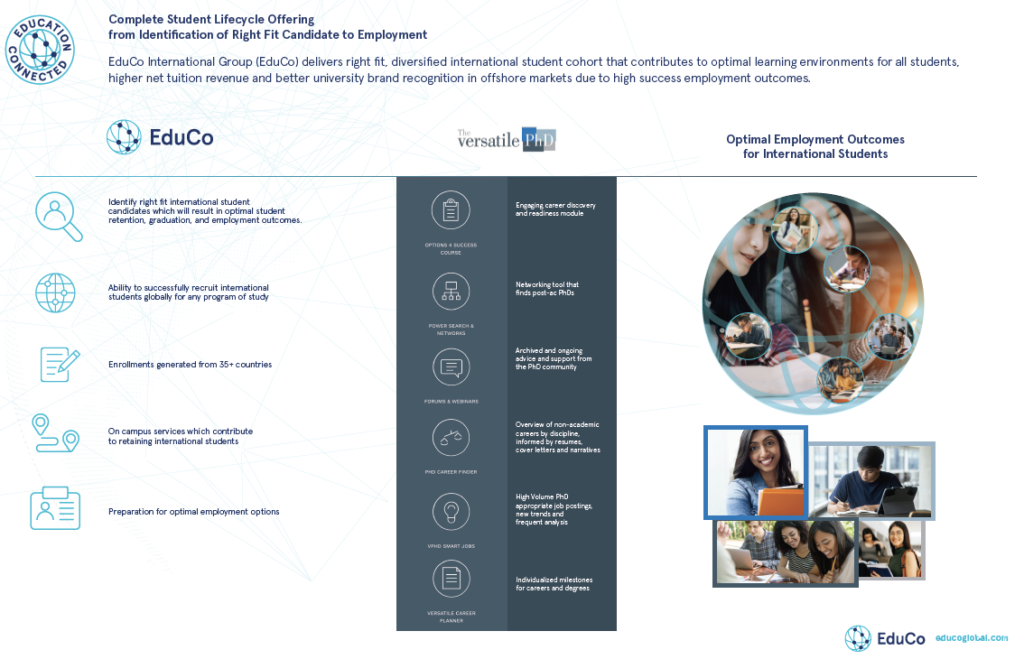 The ability to enhance international student outcomes often starts at admissions and is reinforced during the first years of a PhD or graduate program. Early readiness is key.
As part of Versatile PhD's efforts to accelerate PhD employment outside of the academy, we're excited to introduce our newest partner, EduCo International Group (www.educoglobal.com) as we focus on developing a complete graduate student lifecycle offering from admissions to successful employment.
Please join Versatile PhD and EduCo International Group for a 30 minute consultation that will focus on developing a Recruitment, Admissions, Retention, and Career Development strategic plan for top tier international students.
Flyer here: >> Versatile PhD EduCo Partnership Flyer
Contact us at social@versatilephd.com for more information.
Background:
EduCo is a diversified, post-secondary education company dedicated to helping international students from over 120 countries achieve their academic and career goals, and with institutions in Australia, Canada, Ireland and the United States.