Live and Archived Events
Versatile PhD's 2022-23 live event schedule will consist of our new PhD Pathways Series which examines PhD careers across a range of innovative topics and industries.  Selected webinars will be followed by asynchronous Ask Me Anything (AMA) sessions on our Discussion Forum.
All webcasts will be recorded and accessible to VPhD members on our PhD Pathways section.
If you are not a VPhD member, join Versatile PhD now if you haven't already. And let us know your feedback or ideas for future events at social@versatilephd.com
If you're new to Versatile PhD and also connected with one of our subscribing institutions, find the institution's VPhD portal (here's the list), go through it, and then join Versatile PhD.
<<<< ON DECK >>>>
How PhDs are Building Careers in Science Start-Ups
September 14th, 2022 (2:00PM PST / 5PM EST)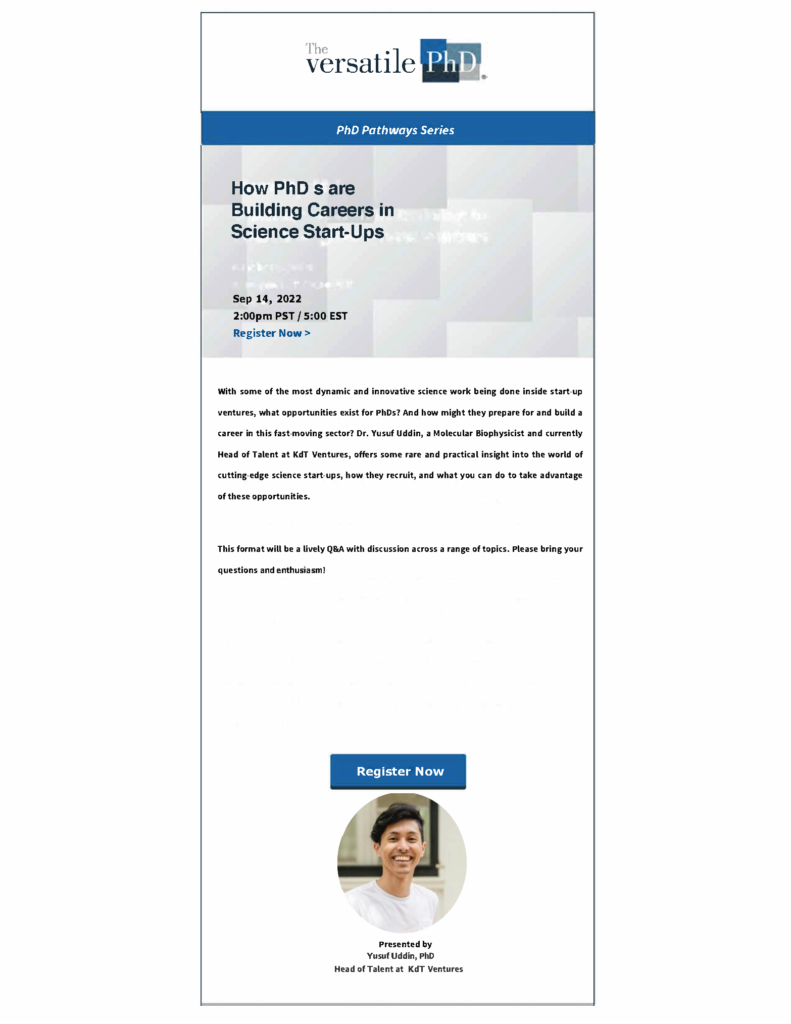 With some of the most dynamic and innovative science work being done inside start-up ventures, what opportunities exist for PhDs? And how might they prepare for and build a career in this fast-moving sector?
Yusuf Uddin, a Molecular Biophysicist and currently Head of Talent at KdT Ventures, offers some rare and practical insight into the world of cutting-edge science start-ups, how they recruit, and what you can do to take advantage of these opportunities.
This format will be a lively Q&A with discussion across a range of topics. Please bring your questions for Yusuf!
Gaming and Career Paths: A Discussion with Dr. Jon Tam
September 29th, 2022 (8:00AM PST / 11:00AM EST)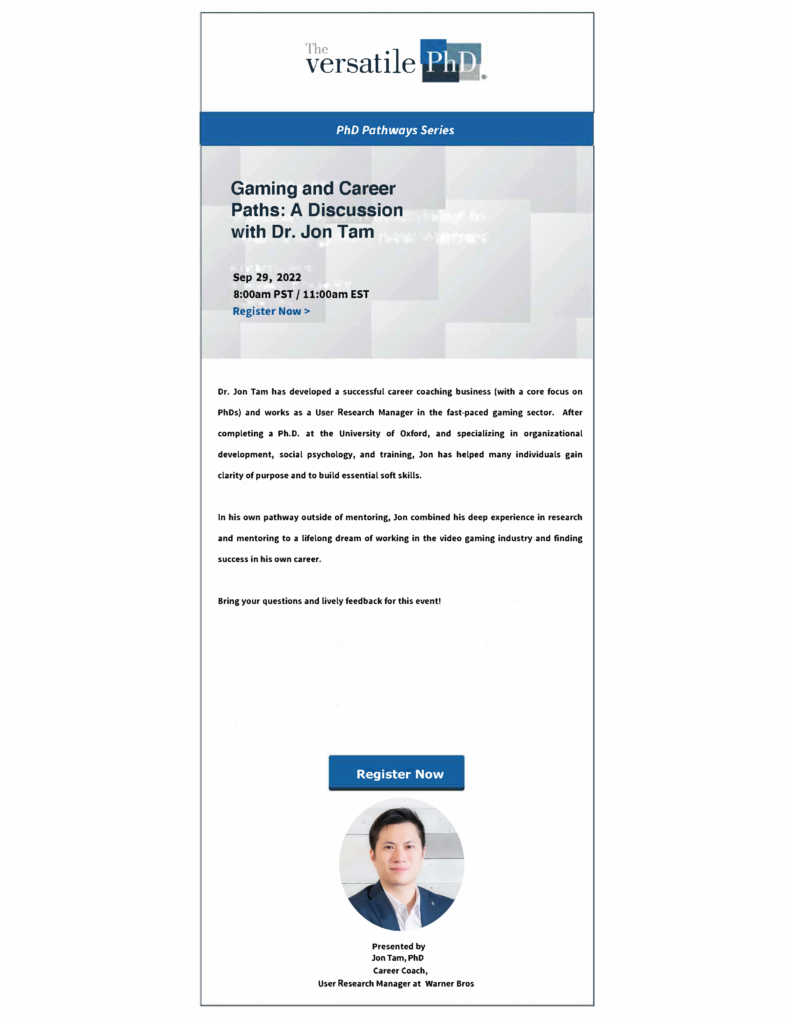 Dr. Jon Tam has developed a successful career coaching business (with a core focus on PhDs) and works as a UX Researcher in the fast-paced gaming sector. After completing a Ph.D. at the University of Oxford, and specializing in organizational development, social psychology, and training, Jon has helped many individuals gain clarity of purpose and to build essential soft skills.
In his own pathway outside of mentoring, Jon combined his deep experience in research and mentoring to a lifelong dream of working in the video gaming industry and finding success in his own career.
Bring your questions and lively feedback for this event!
Options for Success Course and Your Job Search:  Question Time
October 5, 2022 (1:00pm PST / 4:00pm EST)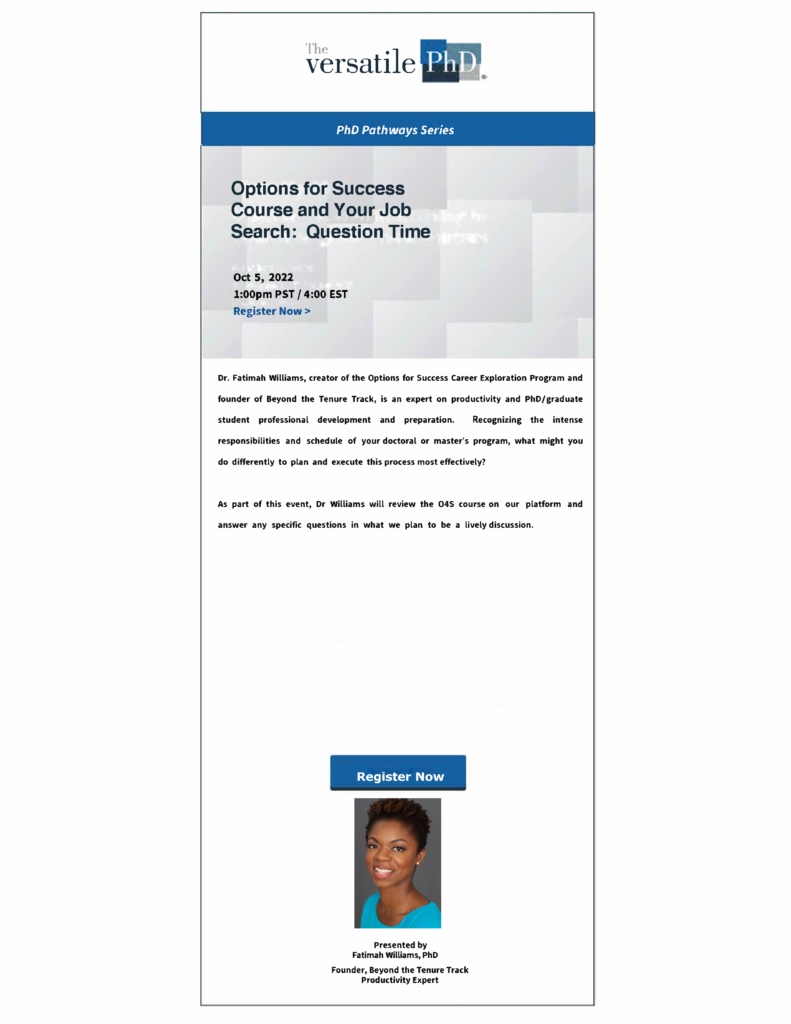 Dr. Fatimah Williams, creator of the Options for Success Career Exploration Program and founder of Beyond the Tenure Track, is an expert on productivity and PhD/graduate student professional development and preparation.  Recognizing the intense responsibilities and schedule of your doctoral or master's program, what might you do differently to plan and execute this process most effectively?
As part of this event, Dr. Williams will review the O4S course on our platform and answer any specific questions in what we plan to be a lively discussion.
<<<< PAST EVENTS >>>>>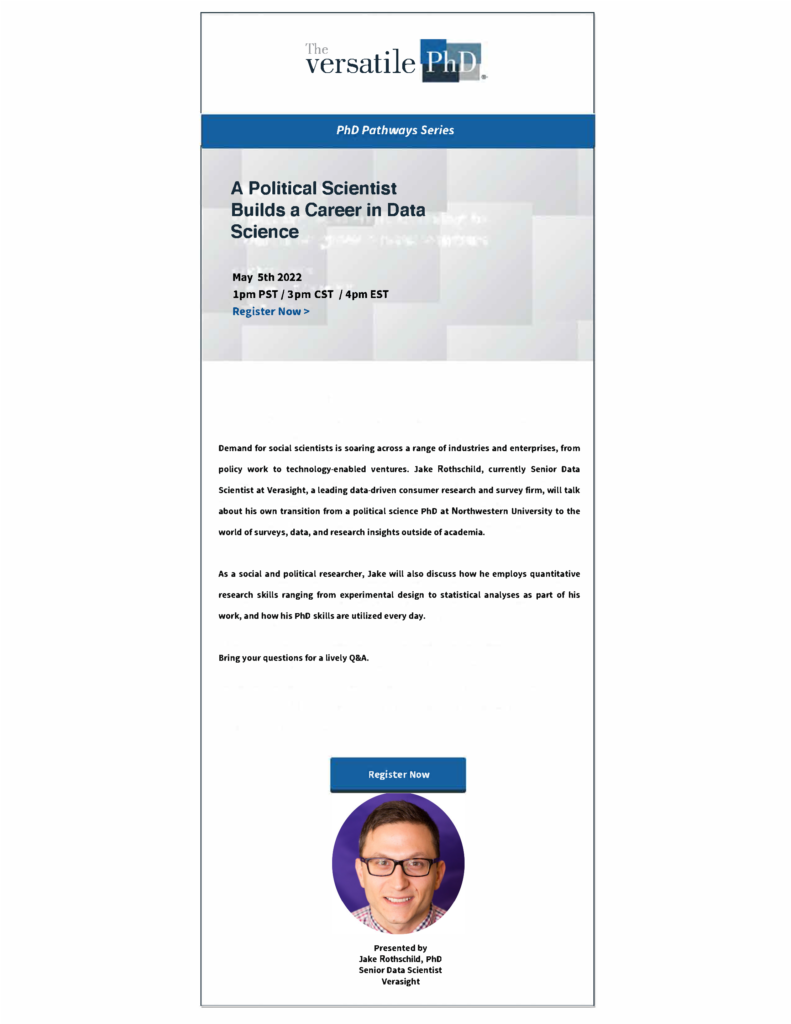 A Political Scientist Builds a Career in Data Science
NEW DATE May 5, 2022 (1pm PST/3pm CST/4pm EST)
Demand for social scientists is soaring across a range of industries and enterprises, from policy work to technology-enabled ventures. Jake Rothschild, PhD, currently Senior Data Scientist at Verasight, a leading data-driven consumer research and survey firm, will talk about his own transition from a political science PhD at Northwestern University to the world of surveys, data, and research insights outside of academia.
As a social and political researcher, Jake will discuss how he employs quantitative research skills ranging from experimental design to statistical analyses as part of his work, and how his PhD skills are utilized every day.
Bring your questions for a lively Q&A.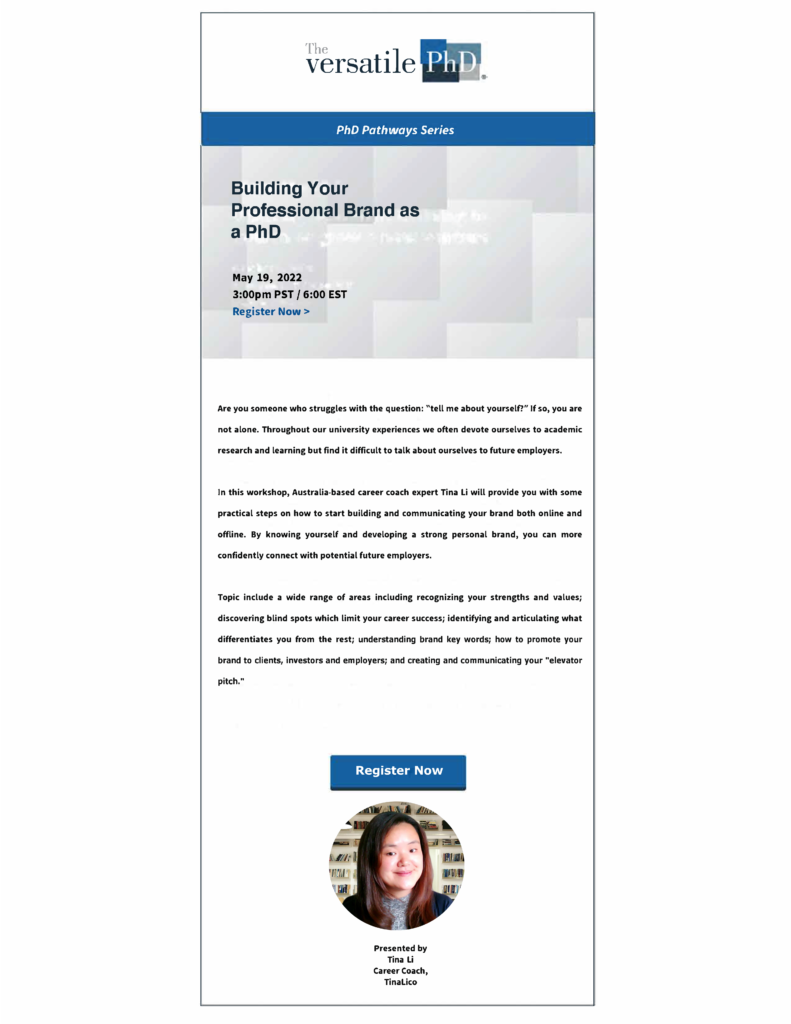 Building Your Professional Brand as a PhD
May 19, 2022 (3:00pm PST / 6:00pm EST)
Are you someone who struggles with the question: "tell me about yourself?" If so, you are not alone. Throughout our university experiences we often devote ourselves to academic research and learning but find it difficult to talk about ourselves to future employers.
In this workshop, Australia-based career coach Tina Li will provide you with some practical steps on how to start building and communicating your brand both online and offline. By knowing yourself and developing a strong personal brand, you can more confidently connect with potential future employers.
Topics include:
• Recognizing who you are, your skills, strength, values and connection to the world
• Discovering blind spots which limit your career success
• Identifying and articulating what differentiates you from the rest
• Understanding your unique strengths and brand key words
• Strategies to promoting your brand to potential clients, investors and employers
• Creating and communicating your elevator pitch and answer "tell me about yourself"
Presenter Bio:
Tina Li, based in Australia, has spent over a decade last ten years working in the higher education sector in the fields of career education, training and development, advising and coaching, including programs at Macquarie University, Australian Catholic University and most recently the University of Sydney.
Find out more information on her website at www.tinalico.com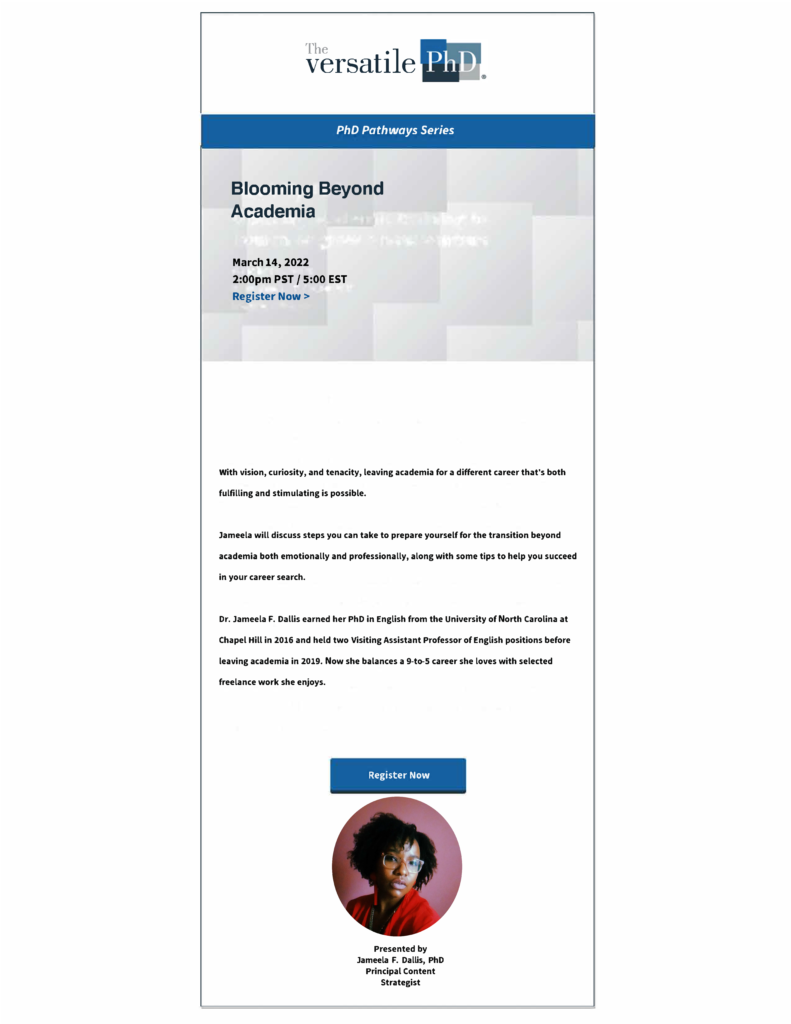 Blooming Beyond Academia
March 14, 2022 (2:00PM PST / 5PM EST)
With vision, curiosity, and tenacity, leaving academia for a different career that's both fulfilling and stimulating is possible.
Jameela will discuss steps you can take to prepare yourself for the transition beyond academia both emotionally and professionally, along with some tips to help you succeed in your career search.
Dr. Jameela F. Dallis earned her PhD in English from the University of North Carolina at Chapel Hill in 2016 and held two Visiting Assistant Professor of English positions before leaving academia in 2019. Now she balances a 9-to-5 career she loves with selected freelance work she enjoys.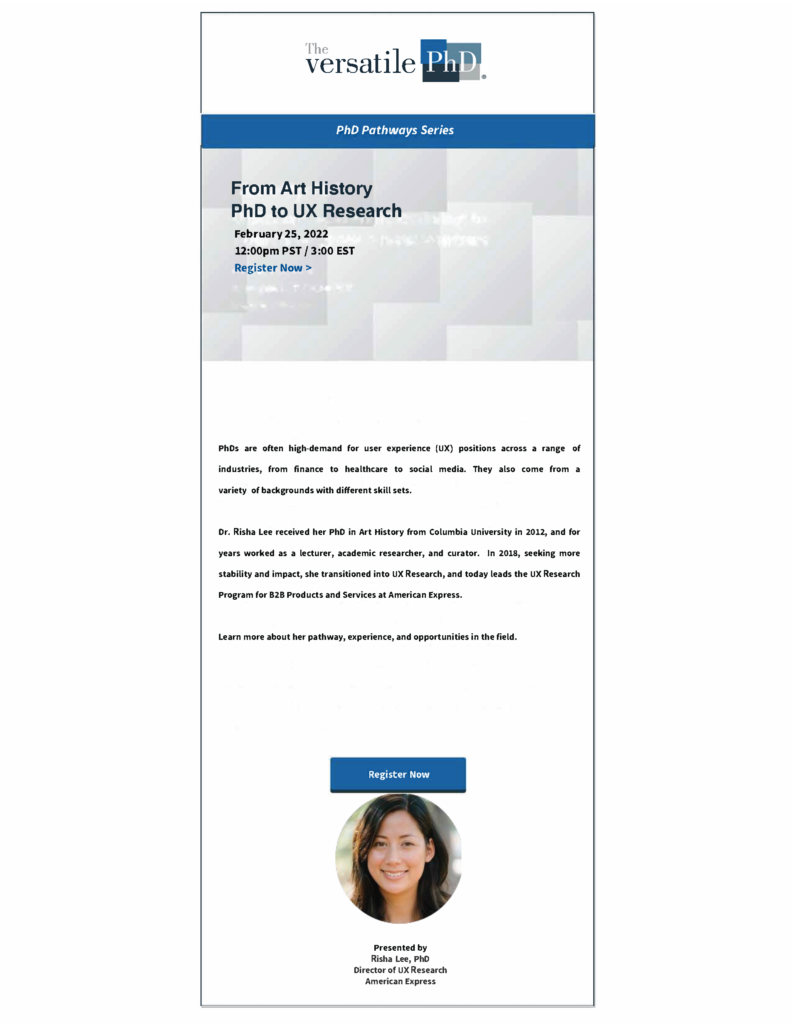 From Art History PhD to UX Research
February 25, 2022 (12:00PM PST / 3:00PM EST)
PhDs are often in high-demand for user experience (UX) positions across a range of industries, from finance to social media. They also come from a variety of backgrounds.
Dr. Risha Lee received her PhD in Art History from Columbia University in 2012, and for years worked as a lecturer, academic researcher, and curator.  In 2018, seeking more stability and impact, she transitioned into UX Research, and today leads the UX Research Program for B2B Products and Services at American Express.
Learn more about her pathway and experience.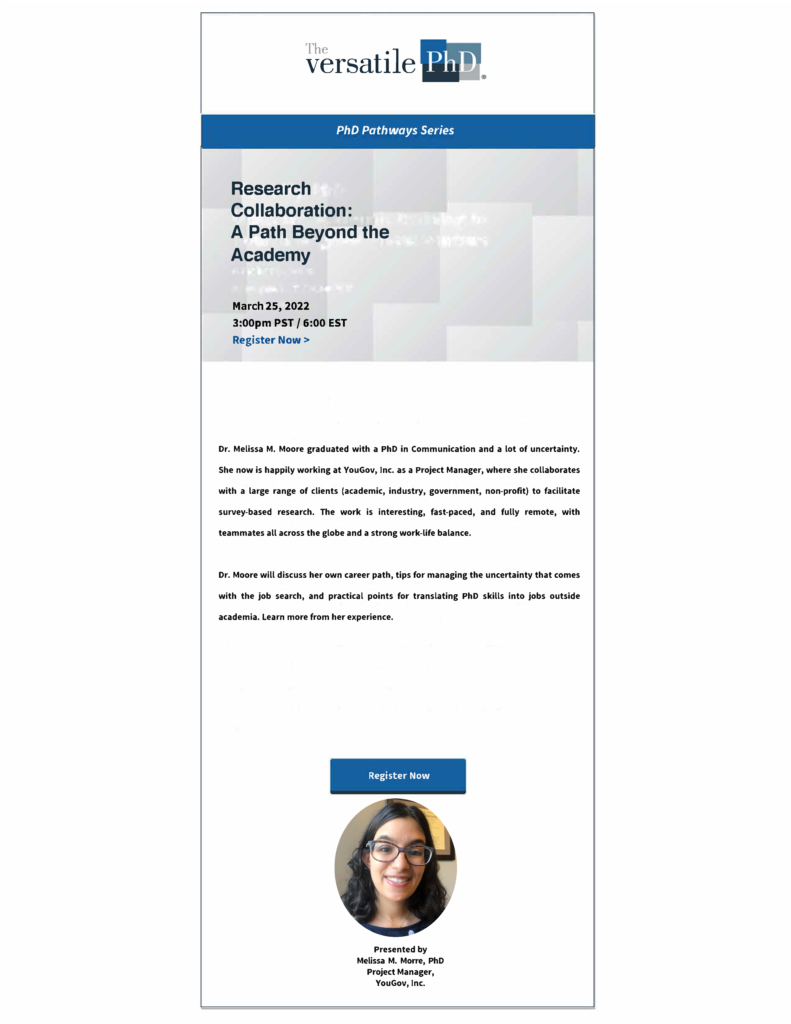 A Journey from Shakespeare to EdTech
February 18, 2022 (3:00PM PST / 6PM EST)
Christina M. Squitieri received her PhD in English Literature from New York University in 2019, where she worked as an adjunct professor teaching Shakespeare courses and interdisciplinary seminars before landing a job at Cengage, an educational technology company that focuses on post-secondary and higher education. In this PhD Pathways seminar, Christina will talk about the choice to leave academia, the multiple pathways she tried before finally deciding to move into EdTech, and the rewards of finding a job that values the teaching and research experience of a PhD program. She will also share some advice about accepting a non-academic job mid-semester.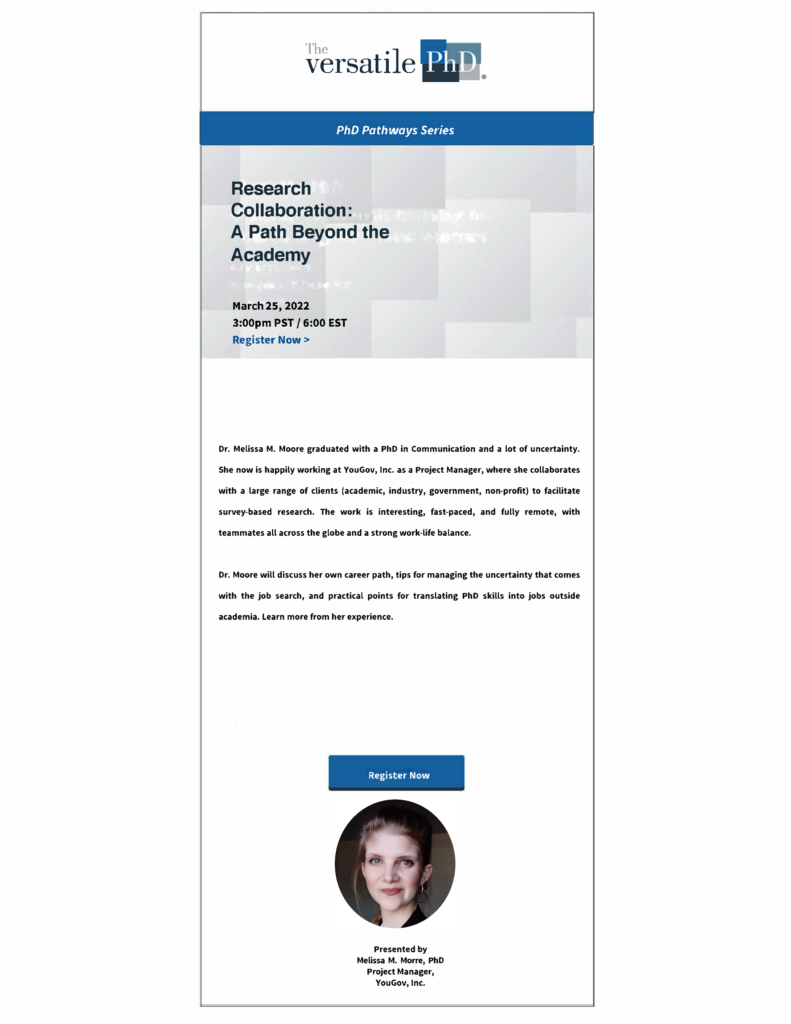 Beyond the Lab:  The Exciting World of Medical Writing
 February 3, 2022 (12:00pm PST / 3:00 EST)
Are you someone passionate about teaching and effective communication? Have you explored positions in education, outreach, and science writing?  This might surprise you, but you should also consider a career in the expanding field of medical writing.
Dr. Anique Olivier-Mason transitioned from graduate school in molecular biology, to leadership roles in education and outreach, to her current position at DynaMed where she writes evidence-based content for clinicians at the point of care. Moreover, most of her colleagues at DynaMed are not only fellow expatriates of academia who love science, collaboration, and communication — but also love a 9-5 schedule and the opportunity to work remotely (an option pre-COVID!).  In this webinar, Dr. Olivier-Mason will discuss her own career pathway, job openings for medical writers at her company, and practical tips for PhDs interested in applying to these jobs.
Jumpstart Your Applied Job Search
November 3, 2021 (12:00pm PST / 3:00 EST)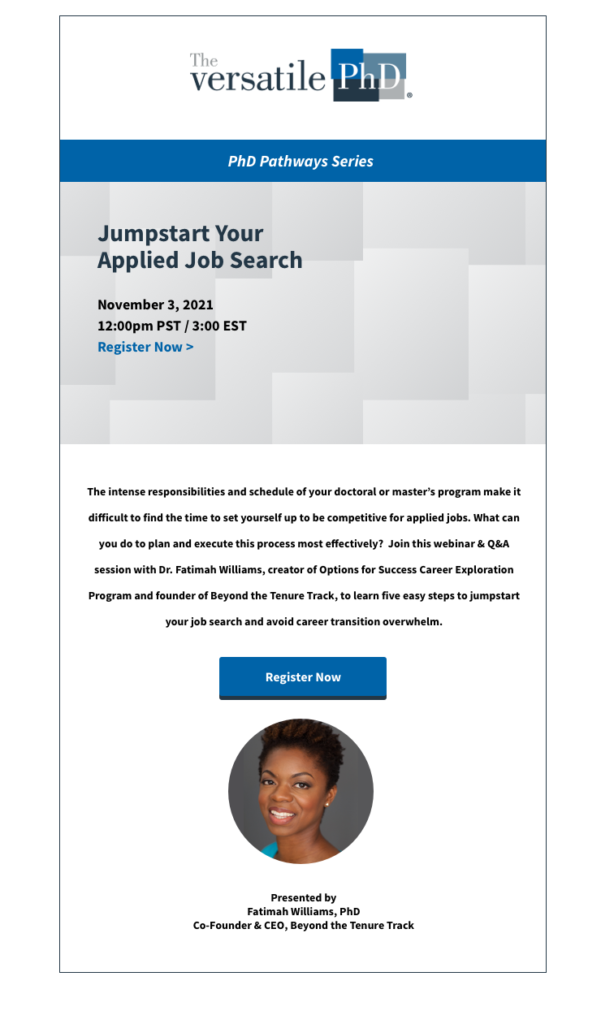 The intense responsibilities and schedule of your doctoral or master's program make it difficult to find the time to set yourself up to be competitive for applied jobs. What can you do to plan and execute this process most effectively?  Join this webinar & Q&A session with Dr. Fatimah Williams, creator of Options for Success Career Exploration Program and founder of Beyond the Tenure Track, to learn five easy steps to jump start your job search and avoid career transition overwhel
PhD Enterprise: How to Design an Online, Client-Facing Business to Grow Impact and Income
October 29, 2021  (12:00pm PST / 3:00pm EST)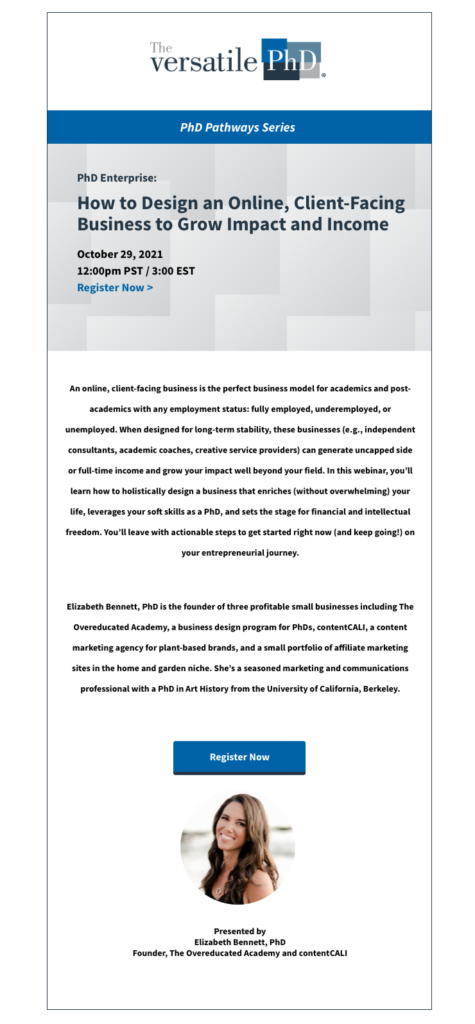 An online, client-facing business is the perfect business model for academics and post-academics with any employment status: fully employed, underemployed, or unemployed. When designed for long-term stability, these businesses (e.g., independent consultants, academic coaches, creative service providers) can generate uncapped side or full-time income, and grow your impact well beyond your field. In this webinar, you'll learn how to holistically design a business that enriches (without overwhelming) your life, leverages your soft skills as a PhD, and sets the stage for financial and intellectual freedom. You'll leave with actionable steps to get started right now (and keep going!) on your entrepreneurial journey.
This webinar is presented by Elizabeth Bennett, PhD, founder of The Overeducated Academy and contentCALI.
Start-Up PhD: Utilizing academic training to launch or grow a new venture
October 8, 2021 (3pm EST / 12:00 pm PST)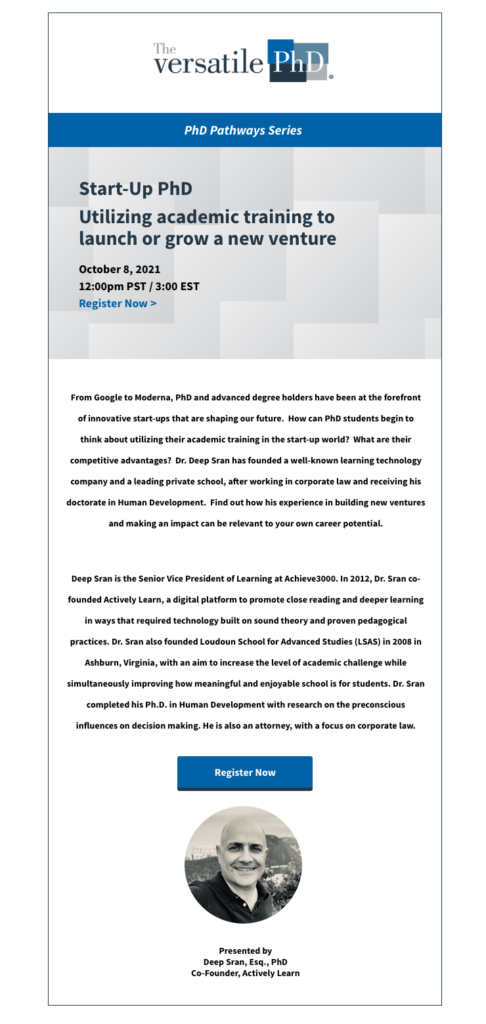 From Google to Moderna, PhD and advanced degree holders have been at the forefront of innovative start-ups that are shaping our future.  How can PhD students begin to think about utilizing their academic training in the start-up world?  What are their competitive advantages?  Dr. Deep Sran has founded a well-known learning technology company and a leading private school, after working in corporate law and receiving his doctorate in Human Development.  Find out how his experience in building new ventures and making an impact can be relevant to your own career potential.
Presented by:
Dr Deep Sran, Esq., PhD
SVP, Actively Learn
NEW INNOVATION CHALLENGE: NHLBI, NIH and NASA Tournament Lab
We're excited to announce our upcoming PhD-level challenge sponsored by the National Institutes of Health (NIH) and NASA Tournament Lab!  This is an exceptional career development opportunity for graduate students and post-docs who are motivated to solve an important medical challenge with social impact.
National Heart, Lung and Blood Institute (NHLBI), a part of the National Institutes of Health (NIH)

"AIR YOU WEAR" CHALLENGE

Submissions due September 30, 2021

Build a Team for HeroX Challenges

We would encourage the VPhD community to build a team to compete for this challenge.  There are tools to help you do this (if you need to join a team as well).  Here are a few videos to get you started on how to form or be part of a team, using the team matching feature, and submitting an entry:
Sign up on our EXPERIENCES page
All the World's a Stage: An Improvisational Approach to Building a Post-Doctoral Career
February 24th, 2021 12:00pm PST / 3:00 EST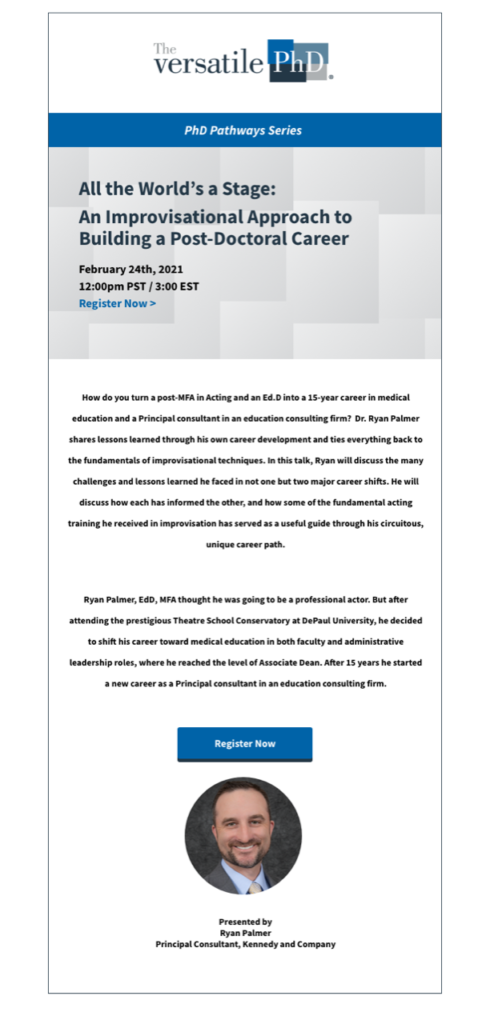 How do you turn a post-MFA in Acting and an Ed.D into a 15-year career in medical education and a Principal consultant in an education consulting firm?  Dr. Ryan Palmer shares lessons learned through his own career development and ties everything back to the fundamentals of improvisational techniques. In this talk, Ryan will discuss the many challenges and lessons learned he faced in not one but two major career shifts. He will discuss how each has informed the other, and how some of the fundamental acting training he received in improvisation has served as a useful guide through his circuitous, unique career path.
Ryan Palmer, EdD, MFA thought he was going to be a professional actor. But after attending the prestigious Theatre School Conservatory at DePaul University, he decided to shift his career toward medical education in both faculty and administrative leadership roles, where he reached the level of Associate Dean. After 15 years he started a new career as a Principal consultant in an education consulting firm.
USING LINKEDIN FOR PHD SUCCESS
Using LinkedIN to Leverage Your PhD for Career Success 
December 3, 2020 (7:00pm EST / 4:00pm PST)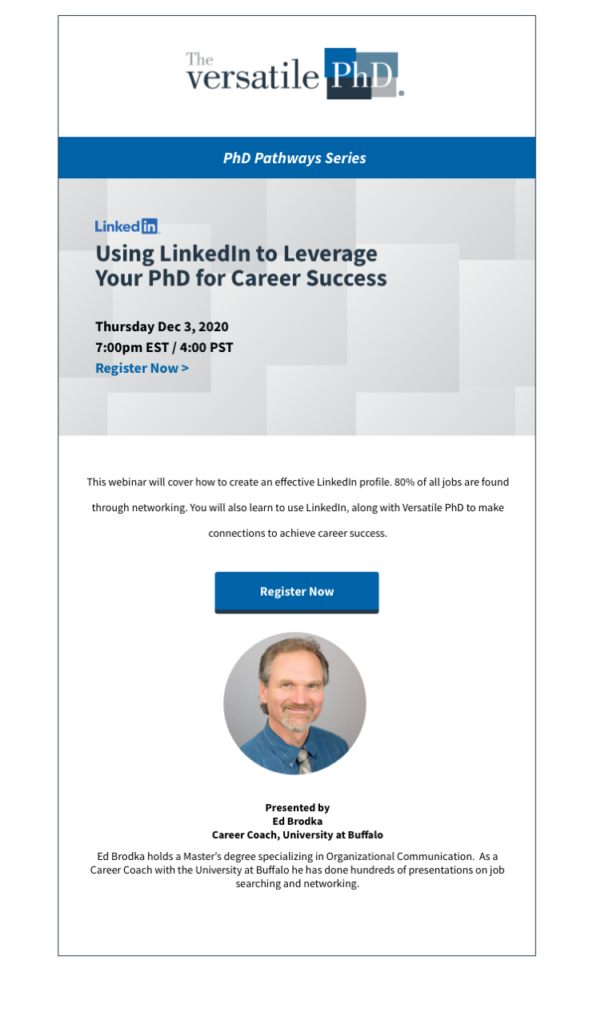 Join Ed Brodka for a webinar that will cover how to create an effective LinkedIn profile. 80% of all jobs are found through networking, including those with PhDs. You will also learn to use LinkedIn, along with Versatile PhD to make connections to achieve career success.
Presented By
Ed Brodka
Career Coach, University at Buffalo
Ed Brodka holds a Master's degree specializing in Organizational Communication. As a Career Coach with the University at Buffalo he has done hundreds of presentations on job searching and networking.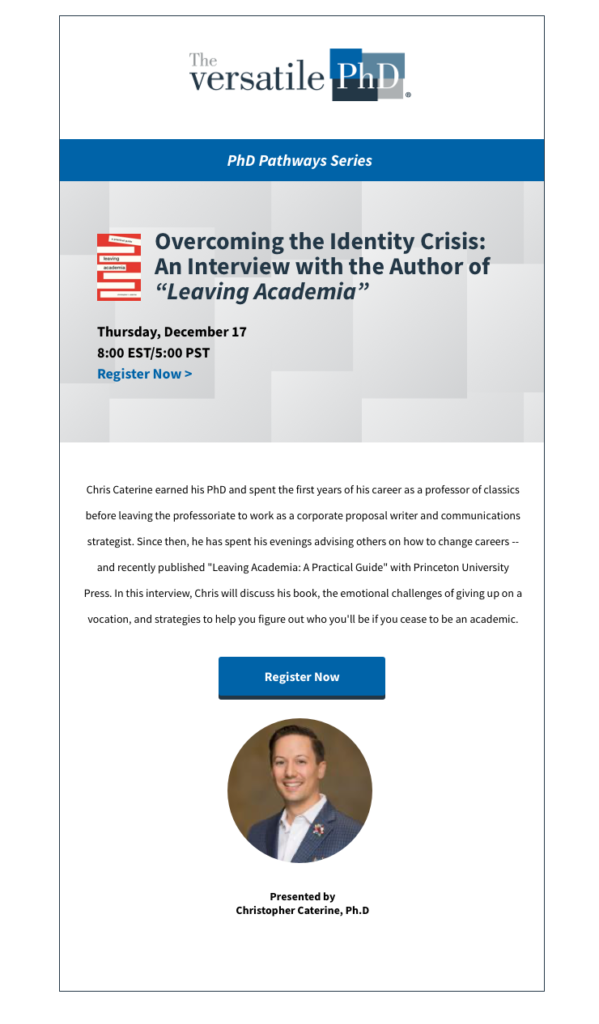 Chris Caterine earned his PhD and spent the first years of his career as a professor of classics before leaving the professoriate to work as a corporate proposal writer and communications strategist. Since then, he has spent his evenings advising others on how to change careers — and recently published "Leaving Academia: A Practical Guide" with Princeton University Press.In this interview, Chris will discuss his book, the emotional challenges of giving up on a vocation, and strategies to help you figure out who you'll be if you cease to be an academic.
Presented by Chris Caterine, PhD
Author, Leaving Academia
Publish and Pivot: Turning your PhD Skills into Careers in the Private, Non-profit and Government Sectors
April 27, 2020 (2:30PST / 5:30 EST)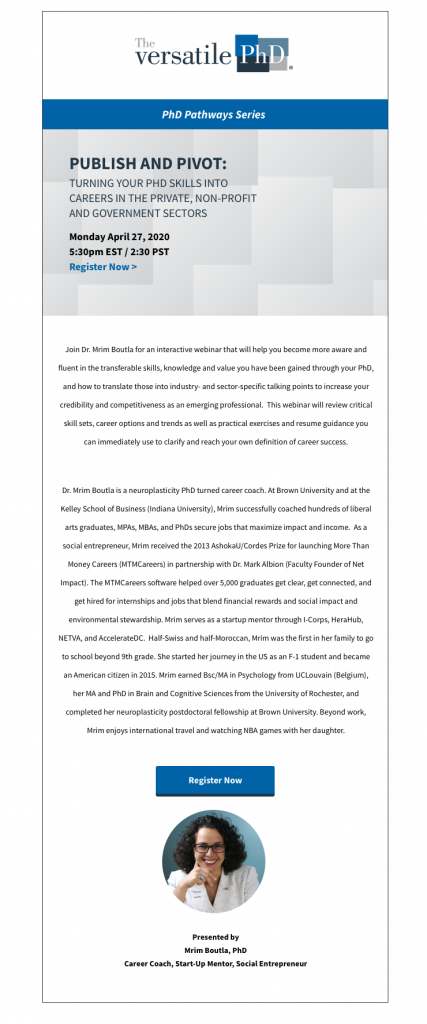 Join Dr. Mrim Boutla for an interactive webinar that will help you become more aware and fluent in the transferable skills, knowledge and value you have been gained through your PhD, and how to translate those into industry- and sector-specific talking points to increase your credibility and competitiveness as an emerging professional.  This webinar will review critical skill sets, career options and trends as well as practical exercises and resume guidance you can immediately use to clarify and reach your own definition of career success.
Dr. Mrim Boutla is a neuroplasticity PhD turned career coach. At Brown University and at the Kelley School of Business (Indiana University), Mrim successfully coached hundreds of liberal arts graduates, MPAs, MBAs, and PhDs secure jobs that maximize impact and income.  As a social entrepreneur, Mrim received the 2013 AshokaU/Cordes Prize for launching More Than Money Careers (MTMCareers) in partnership with Dr. Mark Albion (Faculty Founder of Net Impact). The MTMCareers software helped over 5,000 graduates get clear, get connected, and get hired for internships and jobs that blend financial rewards and social impact and environmental stewardship. Mrim serves as a startup mentor through I-Corps, HeraHub, NETVA, and AccelerateDC.  Half-Swiss and half-Moroccan, Mrim was the first in her family to go to school beyond 9th grade. She started her journey in the US as an F-1 student and became an American citizen in 2015. Mrim earned Bsc/MA in Psychology from UCLouvain (Belgium), her MA and PhD in Brain and Cognitive Sciences from the University of Rochester, and completed her neuroplasticity postdoctoral fellowship at Brown University. Beyond work, Mrim enjoys international travel and watching NBA games with her daughter.
Working for Education Technology Companies After Your PhD
February 11, 2020 (3:30 PST / 6:30PM EST)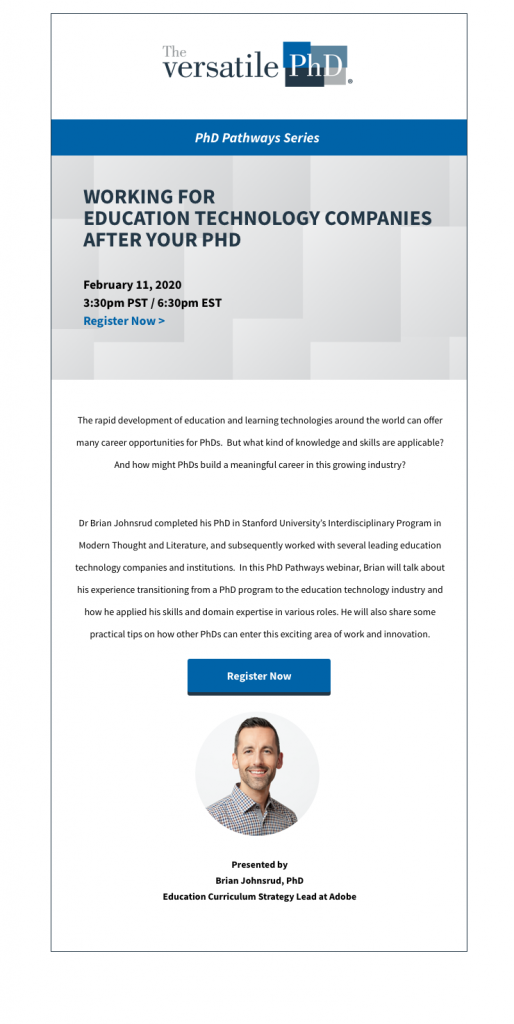 The rapid development of education and learning technologies around the world can offer many career opportunities for PhDs.  But what kind of knowledge and skills are applicable? And how might PhDs build a meaningful career in this growing industry?
Dr Brian Johnsrud completed his PhD in Stanford University's interdisciplinary Program in Modern Thought and Literature, and subsequently worked with several leading education technology companies and institutions.  In this PhD Pathways webinar, Brian will talk about his experience transitioning from a PhD program to the education technology industry and how he applied his skills and domain expertise in various roles. He will also share some practical tips on how other PhDs can enter this exciting area of work and innovation.
Cultivating Resilience: How to Call Out Self-Doubt and Lean on Your Values During Career Transition
February 7, 2020 (12:00 PST / 1:00 MST / 3:00PM EST)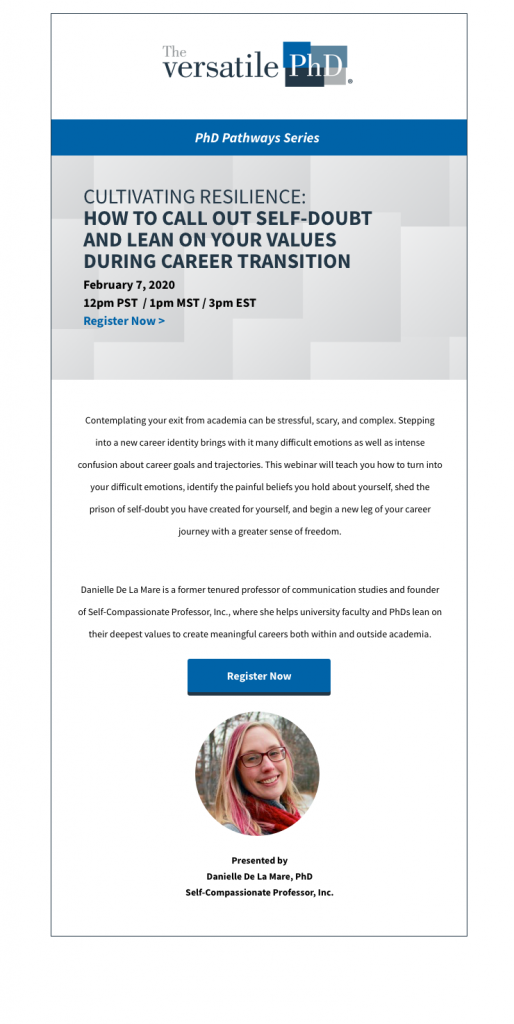 Contemplating your exit from academia can be stressful, scary, and complex. Stepping into a new career identity brings with it many difficult emotions as well as intense confusion about career goals and trajectories. This webinar will teach you how to turn into your difficult emotions, identify the painful beliefs you hold about yourself, shed the prison of self-doubt you have created for yourself, and begin a new leg of your career journey with a greater sense of freedom.
Danielle De La Mare, PhD is a former tenured professor of communication studies and founder of Self-Compassionate Professor, Inc., where she helps university faculty and PhDs lean on their deepest values to create meaningful careers both within and outside academia.
PhD Problem-Solving: Adopting an Effective Mindset for the Job Market
December 18, 2019 (12:00 PST / 3:00PM EST)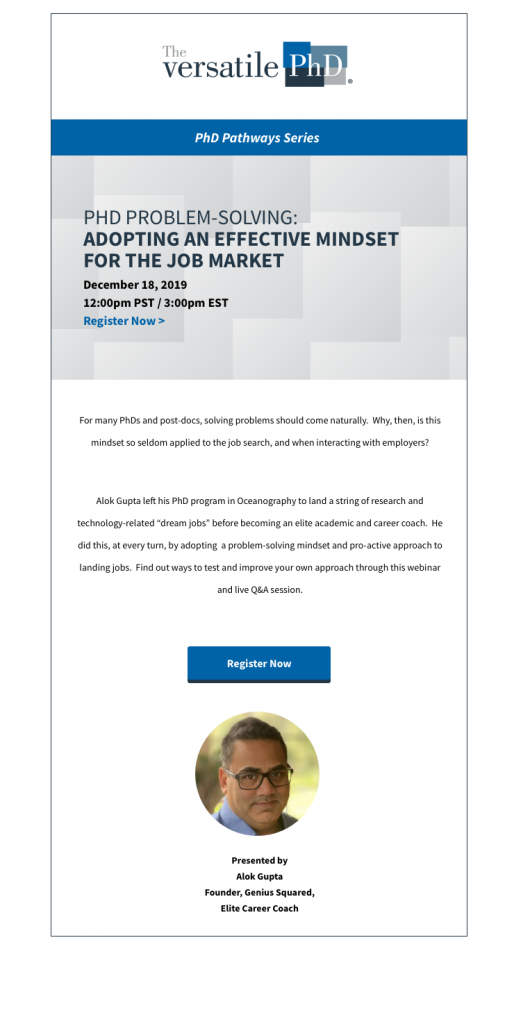 For many PhDs and post-docs, solving problems should come naturally.  Why, then, is this mindset so seldom applied to the job search, and when interacting with employers?
Alok Gupta left his PhD program in Oceanography to land a string of research and technology-related "dream jobs" before becoming an elite academic and career coach.  He did this, at every turn, by adopting  a problem-solving mindset and pro-active approach to landing jobs.  Find out ways to test and improve your own approach through this webinar and live Q&A session.
GOING HOME: Exploring Global Opportunities for PhDs
Shane Dillon, Founder & CEO, Cturtle
December 2, 2019 (5:00 PST / 8:00PM EST)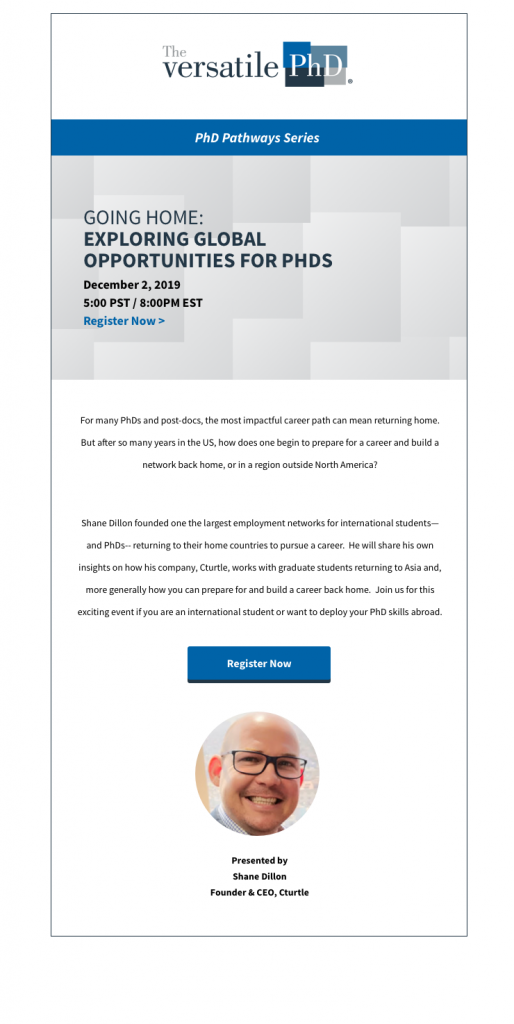 For many PhDs and post-docs, the most impactful career path can mean returning home.  But after so many years in the US, how does one begin to prepare for a career and build a network back home, or in a region outside North America?
Shane Dillon founded one the largest employment networks for international students—and PhDs– returning to their home countries to pursue a career.  He will share his own insights on how his company, Cturtle, works with graduate students returning to Asia and, more generally how you can prepare for and build a career back home.
Join us for this exciting event if you are an international student or want to deploy your PhD skills abroad.
USING YOUR SKILLS IN CONSULTING: How to make an impact beyond your academic discipline
November 22, 2019 (12:00 pm PST/ 3:00 pm EST)
Kathleen Foote, PhD, Senior Consultant, Deloitte

Dr Kathleen Foote turned an expertise in Physics, with a focus on Physics Education Research, into a successful career in consulting by leveraging her diverse quantitative and social science skills.   In this webinar, Kathleen will talk about her pathway to non-academic work, provide insights into the world of consulting, and discuss the need to absorb and utilize knowledge (something PhDs should be good at) on the job.  She'll discuss the value of building a diverse skill set and how pursuing broad interests paid off.
How might you apply your knowledge in the sciences or humanities in a broader work context?  Do you need to change your mindset, and if so, how?
Join us to learn more about Dr. Foote's experience and pathway to success.
DE-MYSTIFYING THE PRIVATE SECTOR: Tips on How To Thrive Outside the Academy
November 14, 2019 (1030 am PST/ 12:30 CST / 130 pm EST)
Angela Murphy, PhD, Manager of Strategic Partnerships, MSTS.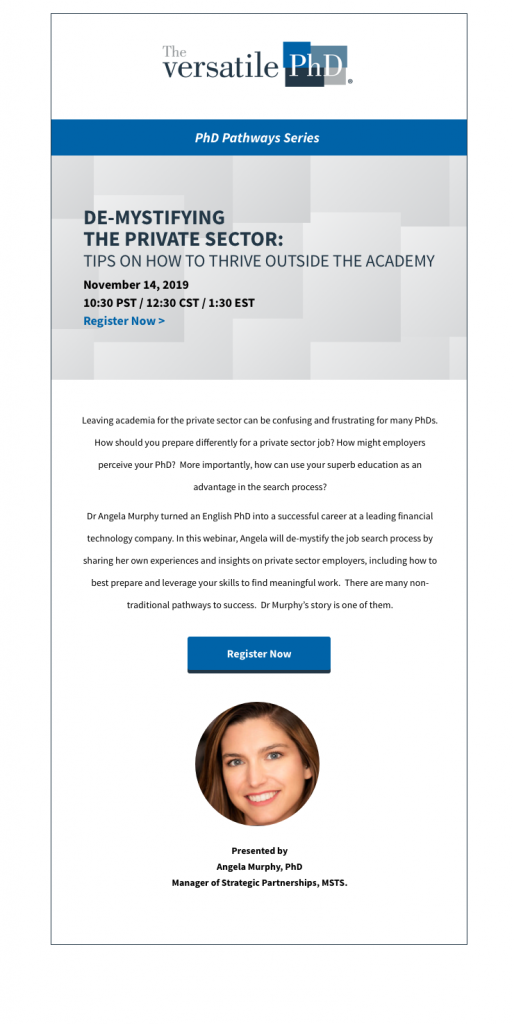 Leaving academia for the private sector can be confusing and frustrating for many PhDs.  How should you prepare differently for a private sector job? How might employers perceive your PhD?  More importantly, how can use your superb education as an advantage in the search process?
Dr Angela Murphy turned an English PhD into a successful career at a leading financial technology company. In this webinar, Angela will de-mystify the job search process by sharing her own experiences and insights on private sector employers, including how to best prepare and leverage your skills to find meaningful work.  There are many non-traditional pathways to success.  Dr Murphy's story is one of them.
POST-PhD FINANCIAL SUCCESS: How to Prepare for and Navigate Your Transition
November 29, 2018 (11am PST/ 2pm EST)
Emily Roberts, PhD (Founder, Personal Finance for PhDs)
Topic: "Post-PhD Financial Success: How to Prepare for and Navigate Your Transition"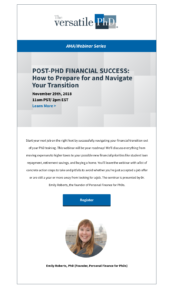 Start your next job on the right foot by successfully navigating your financial transition out of your PhD training. This webinar will be your roadmap! We'll discuss everything from moving expenses to higher taxes to your possible new financial priorities like student loan repayment, retirement savings, and buying a home. You'll leave the webinar with a list of concrete action steps to take and pitfalls to avoid whether you've just accepted a job offer or are still a year or more away from looking for a job.
This FREE webinar is presented by Dr. Emily Roberts, the founder of Personal Finance for PhDs.
<< VERSATILE PHD ORIENTATION SERIES  >>
Topic: "VPhD Basics: NEW Features and How to Use Them Effectively"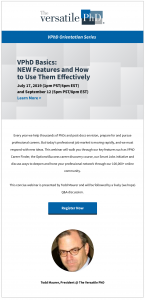 August 14, 2019 (1pm PST/ 4pm EST) and September 26, 2019 (RESCHEDULED) (5pm PST/8pm EST)
Todd Maurer, President, Versatile PhD
Topic: "VPhD Basics: NEW Features and How to Use Them Effectively" 
Every year we help thousands of PhDs and post-docs envision, prepare for and pursue professional careers.  But today's professional job market is moving rapidly, and we must respond with new ideas. This webinar will walk you through our key features such as VPhD Career Finder, the Options4Success career discovery course, our Smart Jobs initiative and ways to deepen and hone your professional network through our 100,000+ online community.
This concise webinar will be followed by a lively (we hope) Q&A discussion.
To REGISTER for AUGUST 14, 2019, click here.
To REGISTER for SEPTEMBER 26 (rescheduled from September 12, 2019), click here
For future reference, a recording will be available and archived in the VPhD website.
>> Other Past AMAs
Drs. Thi Nguyen (Washington U) and Fatimah Williams (Beyond the Tenure Track)
Peter Fiske (Lawrence Berkeley National Laboratory)
Joseph Barber (Career Services at the University of Pennsylvania) and Jenny Furlong (CUNY Graduate Center Office of Career Planning and Professional Development)