PhD Pathways Series + AMAs
Versatile PhD's 2019-20 live event schedule will consist of our new PhD Pathways Series which examines PhD careers across a range of innovative topics and industries.  Selected webinars will be followed by asynchronous Ask Me Anything (AMA) sessions on our Discussion Forum.  All webinars will be recorded and accessible to VPhD members.
As with all VPhD events, our AMAs are free and open to any VPhD member. Join Versatile PhD now if you haven't already.  Let us know your feedback or ideas for future events at social@versatilephd.com
If you're new to Versatile PhD and also connected with one of our subscribing institutions, find the institution's VPhD portal (here's the list), go through it, and then join Versatile PhD. Using the portal + creating a VPhD account = access to subscription content and features and to VPhD's free features.
<< PHD PATHWAYS SERIES – UPCOMING EVENTS >>
Publish and Pivot: Turning your PhD Skills into Careers in the Private, Non-profit and Government Sectors
April 27, 2020 (2:30PST / 5:30 EST)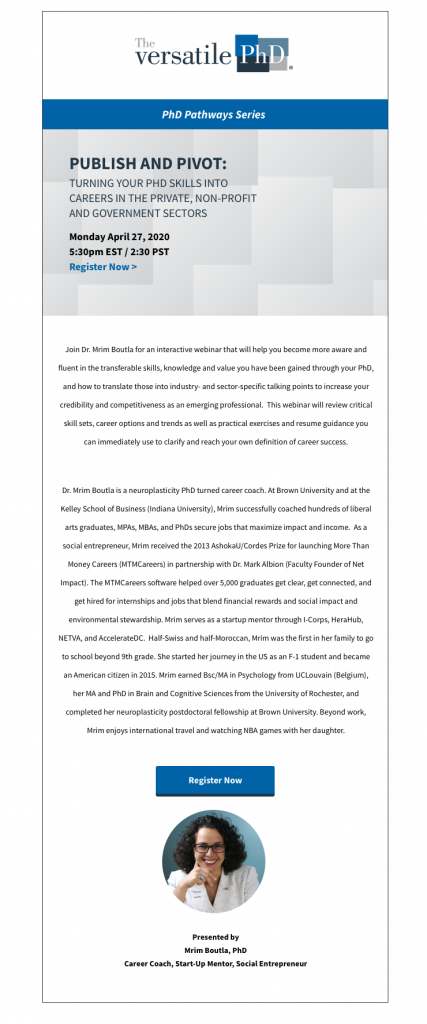 Join Dr. Mrim Boutla for an interactive webinar that will help you become more aware and fluent in the transferable skills, knowledge and value you have been gained through your PhD, and how to translate those into industry- and sector-specific talking points to increase your credibility and competitiveness as an emerging professional.  This webinar will review critical skill sets, career options and trends as well as practical exercises and resume guidance you can immediately use to clarify and reach your own definition of career success.
Dr. Mrim Boutla is a neuroplasticity PhD turned career coach. At Brown University and at the Kelley School of Business (Indiana University), Mrim successfully coached hundreds of liberal arts graduates, MPAs, MBAs, and PhDs secure jobs that maximize impact and income.  As a social entrepreneur, Mrim received the 2013 AshokaU/Cordes Prize for launching More Than Money Careers (MTMCareers) in partnership with Dr. Mark Albion (Faculty Founder of Net Impact). The MTMCareers software helped over 5,000 graduates get clear, get connected, and get hired for internships and jobs that blend financial rewards and social impact and environmental stewardship. Mrim serves as a startup mentor through I-Corps, HeraHub, NETVA, and AccelerateDC.  Half-Swiss and half-Moroccan, Mrim was the first in her family to go to school beyond 9th grade. She started her journey in the US as an F-1 student and became an American citizen in 2015. Mrim earned Bsc/MA in Psychology from UCLouvain (Belgium), her MA and PhD in Brain and Cognitive Sciences from the University of Rochester, and completed her neuroplasticity postdoctoral fellowship at Brown University. Beyond work, Mrim enjoys international travel and watching NBA games with her daughter.
<< PHD PATHWAYS SERIES – PAST EVENTS AND RECORDINGS >>
Working for Education Technology Companies After Your PhD
February 11, 2020 (3:30 PST / 6:30PM EST)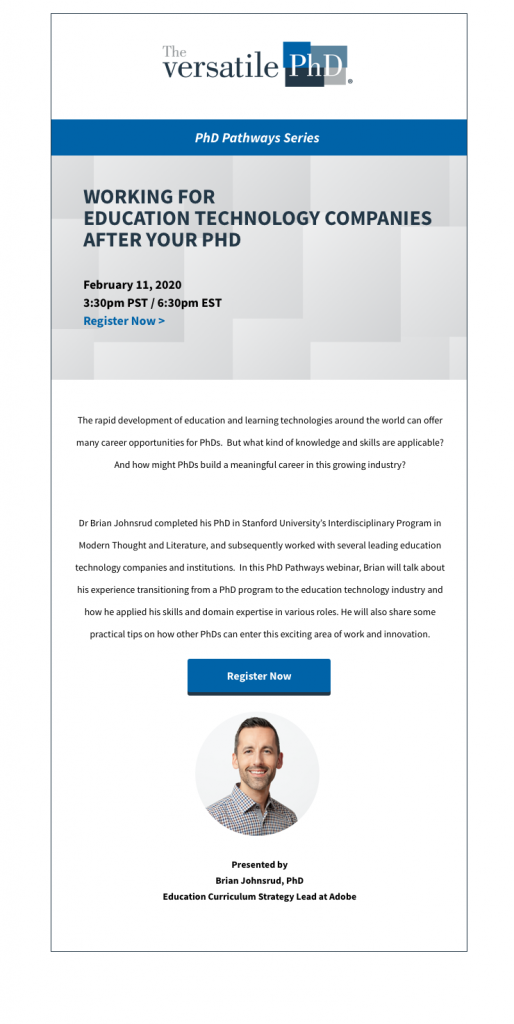 The rapid development of education and learning technologies around the world can offer many career opportunities for PhDs.  But what kind of knowledge and skills are applicable? And how might PhDs build a meaningful career in this growing industry?
Dr Brian Johnsrud completed his PhD in Stanford University's interdisciplinary Program in Modern Thought and Literature, and subsequently worked with several leading education technology companies and institutions.  In this PhD Pathways webinar, Brian will talk about his experience transitioning from a PhD program to the education technology industry and how he applied his skills and domain expertise in various roles. He will also share some practical tips on how other PhDs can enter this exciting area of work and innovation.
Cultivating Resilience: How to Call Out Self-Doubt and Lean on Your Values During Career Transition
February 7, 2020 (12:00 PST / 1:00 MST / 3:00PM EST)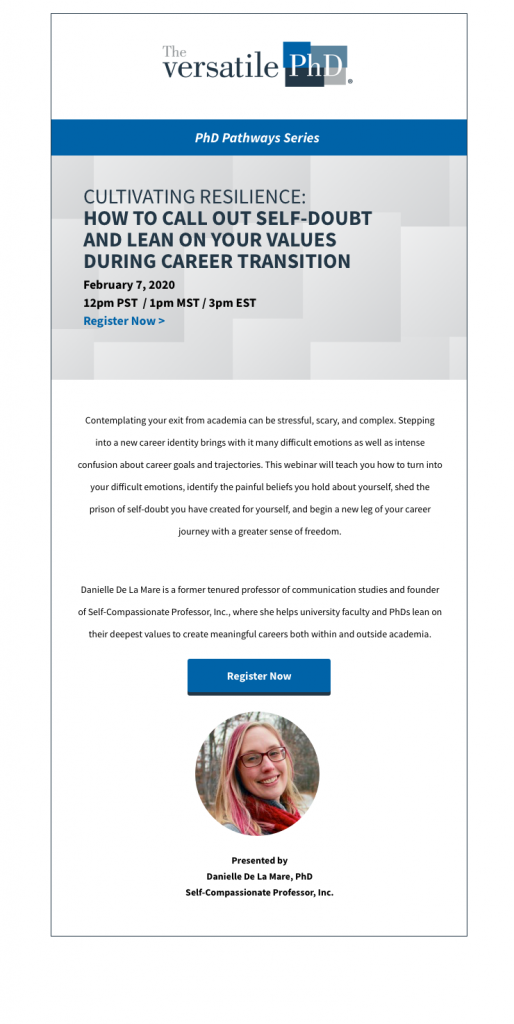 Contemplating your exit from academia can be stressful, scary, and complex. Stepping into a new career identity brings with it many difficult emotions as well as intense confusion about career goals and trajectories. This webinar will teach you how to turn into your difficult emotions, identify the painful beliefs you hold about yourself, shed the prison of self-doubt you have created for yourself, and begin a new leg of your career journey with a greater sense of freedom.
Danielle De La Mare, PhD is a former tenured professor of communication studies and founder of Self-Compassionate Professor, Inc., where she helps university faculty and PhDs lean on their deepest values to create meaningful careers both within and outside academia.
PhD Problem-Solving: Adopting an Effective Mindset for the Job Market
December 18, 2019 (12:00 PST / 3:00PM EST)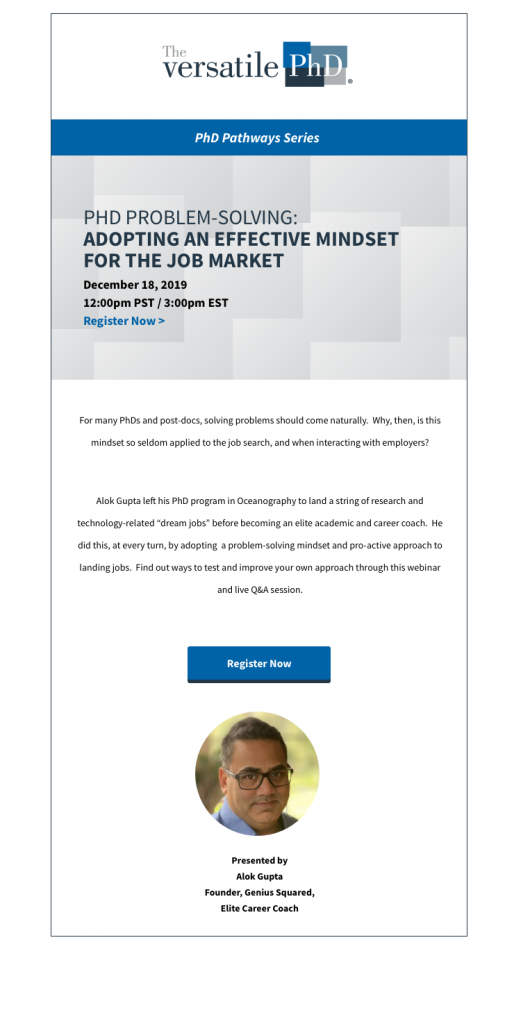 For many PhDs and post-docs, solving problems should come naturally.  Why, then, is this mindset so seldom applied to the job search, and when interacting with employers?
Alok Gupta left his PhD program in Oceanography to land a string of research and technology-related "dream jobs" before becoming an elite academic and career coach.  He did this, at every turn, by adopting  a problem-solving mindset and pro-active approach to landing jobs.  Find out ways to test and improve your own approach through this webinar and live Q&A session.
GOING HOME: Exploring Global Opportunities for PhDs
Shane Dillon, Founder & CEO, Cturtle
December 2, 2019 (5:00 PST / 8:00PM EST)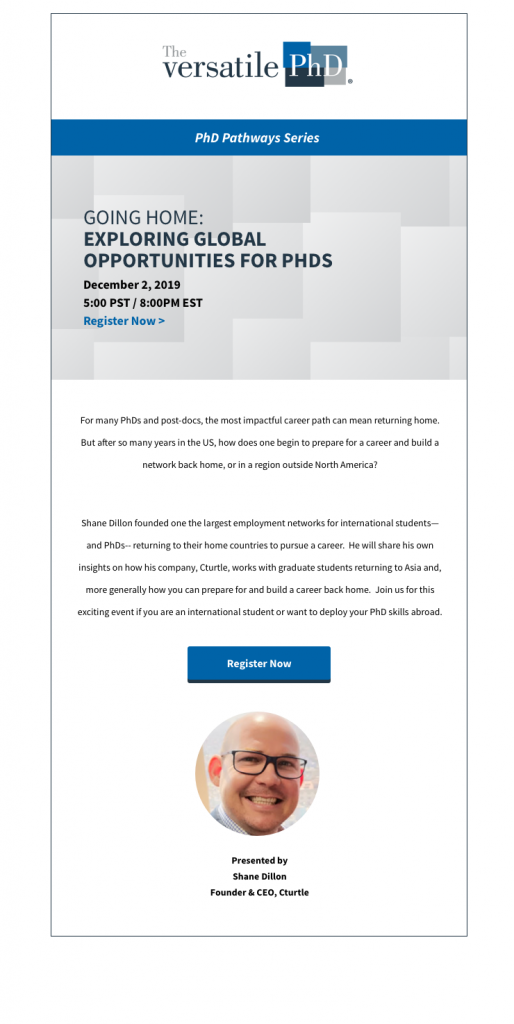 For many PhDs and post-docs, the most impactful career path can mean returning home.  But after so many years in the US, how does one begin to prepare for a career and build a network back home, or in a region outside North America?
Shane Dillon founded one the largest employment networks for international students—and PhDs– returning to their home countries to pursue a career.  He will share his own insights on how his company, Cturtle, works with graduate students returning to Asia and, more generally how you can prepare for and build a career back home.
Join us for this exciting event if you are an international student or want to deploy your PhD skills abroad.
USING YOUR SKILLS IN CONSULTING: How to make an impact beyond your academic discipline
November 22, 2019 (12:00 pm PST/ 3:00 pm EST)
Kathleen Foote, PhD, Senior Consultant, Deloitte

Dr Kathleen Foote turned an expertise in Physics, with a focus on Physics Education Research, into a successful career in consulting by leveraging her diverse quantitative and social science skills.   In this webinar, Kathleen will talk about her pathway to non-academic work, provide insights into the world of consulting, and discuss the need to absorb and utilize knowledge (something PhDs should be good at) on the job.  She'll discuss the value of building a diverse skill set and how pursuing broad interests paid off.
How might you apply your knowledge in the sciences or humanities in a broader work context?  Do you need to change your mindset, and if so, how?
Join us to learn more about Dr. Foote's experience and pathway to success.
DE-MYSTIFYING THE PRIVATE SECTOR: Tips on How To Thrive Outside the Academy
November 14, 2019 (1030 am PST/ 12:30 CST / 130 pm EST)
Angela Murphy, PhD, Manager of Strategic Partnerships, MSTS.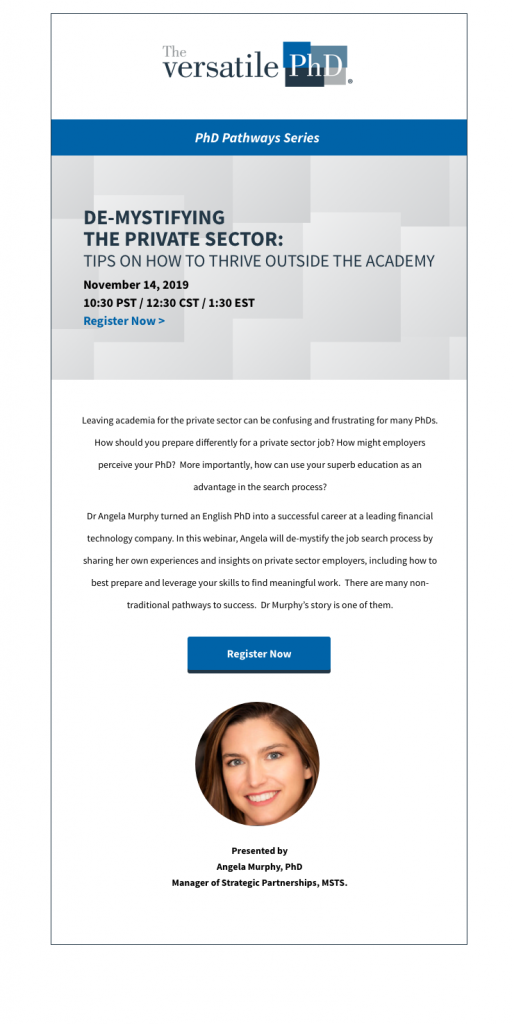 Leaving academia for the private sector can be confusing and frustrating for many PhDs.  How should you prepare differently for a private sector job? How might employers perceive your PhD?  More importantly, how can use your superb education as an advantage in the search process?
Dr Angela Murphy turned an English PhD into a successful career at a leading financial technology company. In this webinar, Angela will de-mystify the job search process by sharing her own experiences and insights on private sector employers, including how to best prepare and leverage your skills to find meaningful work.  There are many non-traditional pathways to success.  Dr Murphy's story is one of them.
POST-PhD FINANCIAL SUCCESS: How to Prepare for and Navigate Your Transition
November 29, 2018 (11am PST/ 2pm EST)
Emily Roberts, PhD (Founder, Personal Finance for PhDs)
Topic: "Post-PhD Financial Success: How to Prepare for and Navigate Your Transition"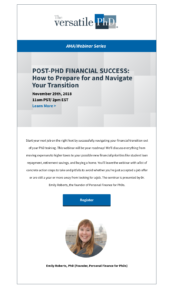 Start your next job on the right foot by successfully navigating your financial transition out of your PhD training. This webinar will be your roadmap! We'll discuss everything from moving expenses to higher taxes to your possible new financial priorities like student loan repayment, retirement savings, and buying a home. You'll leave the webinar with a list of concrete action steps to take and pitfalls to avoid whether you've just accepted a job offer or are still a year or more away from looking for a job.
This FREE webinar is presented by Dr. Emily Roberts, the founder of Personal Finance for PhDs.
<< VERSATILE PHD ORIENTATION SERIES  >>
Topic: "VPhD Basics: NEW Features and How to Use Them Effectively"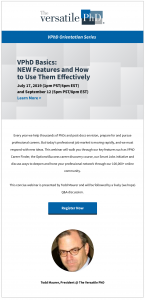 August 14, 2019 (1pm PST/ 4pm EST) and September 26, 2019 (RESCHEDULED) (5pm PST/8pm EST)
Todd Maurer, President, Versatile PhD
Topic: "VPhD Basics: NEW Features and How to Use Them Effectively" 
Every year we help thousands of PhDs and post-docs envision, prepare for and pursue professional careers.  But today's professional job market is moving rapidly, and we must respond with new ideas. This webinar will walk you through our key features such as VPhD Career Finder, the Options4Success career discovery course, our Smart Jobs initiative and ways to deepen and hone your professional network through our 100,000+ online community.
This concise webinar will be followed by a lively (we hope) Q&A discussion.
To REGISTER for AUGUST 14, 2019, click here.
To REGISTER for SEPTEMBER 26 (rescheduled from September 12, 2019), click here
For future reference, a recording will be available and archived in the VPhD website.
>> Other Past AMAs
Drs. Thi Nguyen (Washington U) and Fatimah Williams (Beyond the Tenure Track)
Peter Fiske (Lawrence Berkeley National Laboratory)
Joseph Barber (Career Services at the University of Pennsylvania) and Jenny Furlong (CUNY Graduate Center Office of Career Planning and Professional Development)