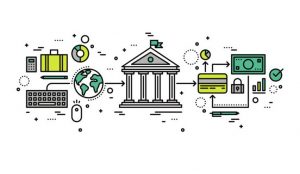 Today's financial sector is highly diverse in terms of job requirements, the size and type of enterprises, geographic concentration as well as levels of technological innovation, salary and social mission.  From cryptocurrency start-ups to education finance to social impact investing and international banking and consulting, the finance sector also a significant source for hiring PhDs.
In the US alone, by 2026 the finance and insurance industry is projected to employ over 6 million workers, but less than half (2.4 million workers) will be at firms employing 10,000 people or more (see Figure 1). This suggests a wide range of future opportunities that span far beyond the typical banking job, and include not-for-profit and earlier stage ventures.

Figure 1: Diversity of Employment by Size of Firm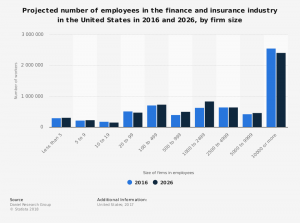 Below is a small cluster of representative jobs drawn from our weekly analysis, including many jobs that are not typically associated with the finance sector.
HSS
Advisor, Art for Justice Fund, Rockefeller Foundation
Strategy and Planning Head, Global Scaled Solutions, Uber
Global Controller, Human Rights Watch
Deputy Director, Field Services, Population Services International
Chief Economist, Global Natural Resources
STEM
Senior Financial Engineer, Calypso
Vice President, Senior Model Validator, BNP Paribas
Principal Quantitative Analyst, Finra
Director, Merchant Rick Oversight, PayPal
Officer, Conservation Science (Economics), Pew Charitable Trust
For access to more jobs as well as archived and searchable opportunities, visit our SmartJobs page. Note: SmartJobs access requires a university affiliation. User-generated jobs are open to all members and can be accessed here.