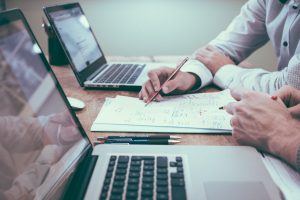 Consulting work is often an attractive option for those with PhDs and advanced degrees as it reaches across virtually all knowledge domains and areas of academic expertise, while utilizing a wide range of transferable skills.  Consultants are generally hired to solve problems and can be found in specialized firms (eg. Deloitte, Bain) or within companies or enterprises seeking a specific level of expertise.  And for those with a more entrepreneurial bent, starting your own consulting business may also be an attractive option, offering the potential for independence, higher pay, IP ownership and greater flexibility on the choice of work and clients to serve.
What makes a successful consultant?  According to one article a great consultant might contain traits such as attention to detail, ability to ask pertinent questions, having domain knowledge, knowing how to think before doing, and being resourceful. Another view from a McKinsey recruiting director underscores the high demand for those with advanced degrees who can also collaborate well with others.
For a more practical view of past individual PhD narratives for those who found work in the Consulting field after a PhD program, take a look at our PhD Career Finder.
Finally, our cluster of consulting jobs this week offers a wide range of opportunities across HSS and STEM, from learning to healthcare and energy. Start your research here; there is wide range of opportunities available and many paths to success in this field.
HSS
Senior Consultant, Finance Strategy and Transformation, Deloitte
Senior Consultant, Digital Strategy, Epsilon
Learning Consultant, Exec Comm
STEM
Senior Consultant, Energy Sector, Innogy Consulting
Director of Strategic Alliances, Consultant Health Care, Grand Rounds
Sr Research Consultant, Advisory Board Research, United Health
Consultant, Financial Improvement, Nexera
IT Cost management and Modeling Consultant, Grant Thornton
For access to more jobs as well as archived and searchable opportunities, visit our SmartJobs page.  Note: SmartJobs access requires a university affiliation. User-generated jobs are open to all members and can be accessed here.
If there are areas of work you would like us to explore in more depth, please contact at smartjobs@versatilephd.com. 
We want to hear from you.