Water. Climate. Disease. Conservation.  Applying your expertise and skills to the vast needs of the environmental sector, and its various constituencies, can offer a meaningful and sustainable career path.
According to a recent report on "Green Growth" by the OECD, up to 20 million jobs will be created by 2030 worldwide based on developments within the clean energy sector alone, and that figure does not begin to address the many other "green" jobs available for those with PhDs and advanced degrees in research, advocacy, engineering and development roles.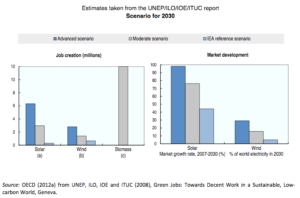 Highlighted below is a small cluster of jobs in the environmental sector ranging from environmental consultants and engineers, ecologists, bio-statisticians, geologists and toxicologists, to policy directors, research associates, editors, and consultants.  It's an area of work that increasingly demands a wide range of transferable skills, applies to many fields, and has a large representation of PhDs across the humanities, social sciences and STEM specialties.
Officer, Conservation Science (Economics)
Development Officer for Environment California
Program Officer – Board on Population Health and Public Health Practice
Forestry Program Officer, American Carbon Registry
Senior Scientist, Marine Stress and Ocean Health Program 
Water/Wastewater Project Manager
Officer, Conservation Science (Terrestrial Ecosystems)
For access to these jobs as well as archived and searchable opportunities, visit our SmartJobs page.