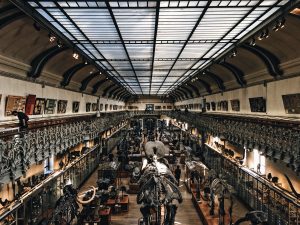 A few years ago an article in the Washington Post explained that there are more museums in the US than Starbucks and McDonalds combined. Many people, in disbelief, had to look it up. That statement is still true today.
According to the American Alliance of Museums, museums support more than 726,000 jobs, and for every direct museum job an additional job is supported elsewhere in the economy.  There are over 35,000 museums in the US supporting 850 million visits each year.  Researchers, curators, digital content specialists and executives are all well represented–including those with PhDs in the humanities and sciences.  Indeed, demand for museum employment is expected to outstrip demand for all occupations on average between 2016 and 2026 (see the chart below, you can read more here.)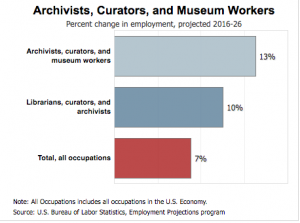 Here is another perspective.  A quick search on the Department of Labor's O*Net under "museums" lists several occupations, including:  Librarians, Curators, Historians, Art Therapists, Archivists, and Museum technicians and Conservators. If you click through any of these classifications a wide range of job titles, classifications and transferable skills are listed, providing possible clues for you in your employment discovery and search. One thing is clear: museums and libraries require a vast collection of knowledge and skills, from almost every field of study.
We have collected a sample cluster of jobs, and others posted on our site, to get started. We would also encourage you to use these examples as a point of reference for future searches in your field of interest. And if there are areas you would like us to explore in more depth, please contact us at smartjobs@versatilephd.com
HSS
Conservator, Smithsonian Institute
Slavic and European Studies Librarian, U Chicago
SVP, White House Historical Association
Senior Product Manager, Global Learning, Pearson
Research Assistant, European, Dallas Museum
Interactive Media Producer, Cortina Productions
Head of Teaching and Learning, Rare Books, Houghton Library
STEM
Post-Doctoral Research Scientist, Vertebrate Paleontology
Post-Doctoral Research Scientist, Natural History Museum, Dinosaur Institute
For access to more jobs as well as archived and searchable opportunities, visit our SmartJobs page.  Note: SmartJobs access requires a university affiliation. User-generated jobs are open to all members and can be accessed here.